Most break-ins happen during the day, with more than a quarter of burglars gaining entry without force.
Want to protect your home? Spruce up these areas that experts say invite trouble to the neighborhood.
A) Second-floor windows
Ten feet isn't necessarily enough height to protect your home from thieves. Keep away from windows ladders or outdoor furniture that can be climbed. Prune trees with branches that stretch too close to the house. Security systems should include alarms on upper-level windows.
Sliding glass door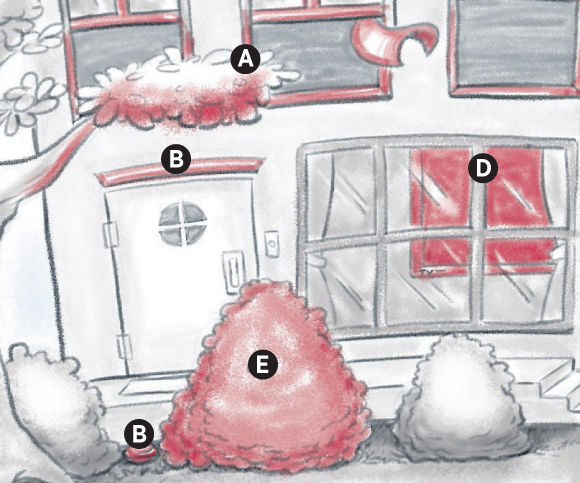 A sliding glass door often is hidden at the rear, more vulnerable side of a house. Farmers Insurance recommends placing a steel rod or a baseball bat in the door's channel to keep an intruder from lifting it out of the track or forcing it open.
B) Spare key
Still hiding a spare key close to the front door? You're better off leaving it with a trusted neighbor instead or following security expert Ron Yarnell's advice to invest in a combination lock box.
C) Open garage door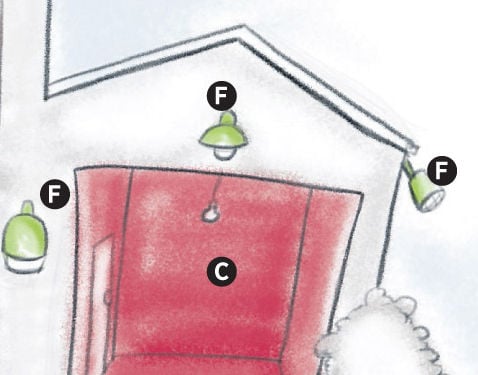 Pennsylvania State Police say open garages are a frequent entry point for burglars. Keep the external garage doors closed, and make sure the door leading into the house from the garage has a solid wood or solid core construction. Secure it with a deadbolt lock.
Outdoor entertainment area
Outdoor kitchens and entertainment areas that can be seen from the road need extra protection. Chain or alarm expensive extras such as backyard TVs.
D) First-floor window to peek in
After a party, make sure to put away presents or pull the blinds to prevent prowlers from peeking inside at tempting new valuables.
E) Bushes
Limit shrubs near entry points to about 3 feet tall for safety purposes — taller plants can hide burglars from public view. Stauffers of Kissel Hill Home & Garden Stores manager Jodie Morris suggests a prickly plant like wintergreen barberry that nobody wants to go near.
F) Spots in the shadows
Darkness is temptation. Light up the front porch and use motion-sensing spotlights to deter unwelcome activity. Even a few solar-powered lights along a walkway can make your home less inviting to those who don't want to be seen.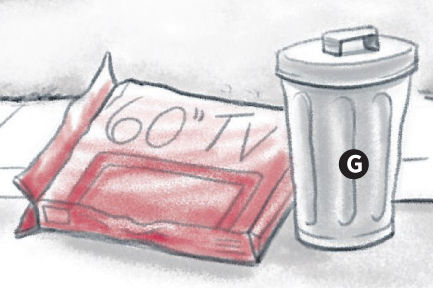 G) Trash can
Empty boxes are a way of announcing you have pricey new belongings. Break down the boxes and hide them at the bottom of your trash pile on pickup day.
H) Empty driveway
Park an RV in your driveway? Take it on a trip and the bad guys might figure out you'll be gone for a while. A security system can provide some protection, as can timed lighting, television or radio that makes it appear someone is still home.
I) Mailbox
An overflowing mailbox and a pile of newspapers in the driveway are like an invitation for would-be burglars, says security expert Ron Yarnell. Place mail and subscriptions on hold, or ask a trusted friend to pick up daily.
Source:  Lancaster Online